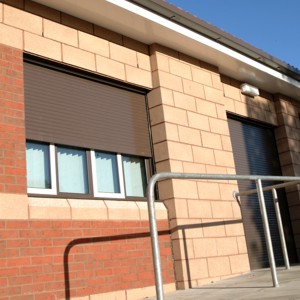 The SeceuroShield 3800 is a highly versatile and ambidextrous roller security window and door shutter which can be installed as either built-in or built-on to suit personal taste. Available up to 4000mm wide and 5000mm tall, this shutter can accommodate almost every requirement.
When built on, the SeceuroShield 3800 shutterbox (approximately between 165mm and 250mm) is visible on the exterior of the building directly above the window/door/cabinet offering an unobtrusive form of reliable security. However when utilised as a built-in application, the shutterbox is hidden in the interior wall section only revealing the streamlined double-skin aluminium extruded slat.
What makes this shutter unique is the fact it can be merged with the SeceuroVision 3800 to allow partial vision when required in the form of punched or perforated slats.
Recommended Use
At Samson, we have a strong knowledge of our products therefore we like to offer our recommendations on potential use and application for them.
The SeceuroShield is suitable for a variety of different sites varying in security needs. Samson recommends that this security shutter is best suited for:
High Security Domestic Sites
- Homes in vulnerable areas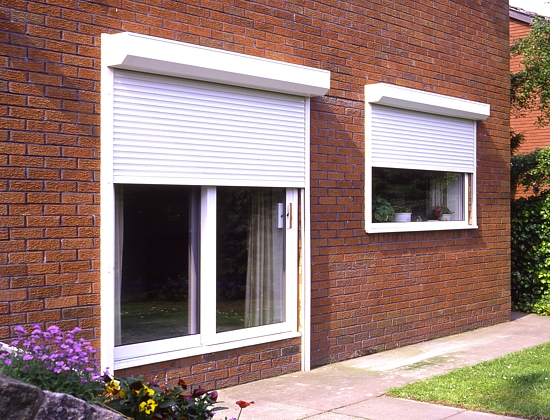 - High value houses
Medium Security Office/Commercial Premises
- Office Blocks
- Showrooms
- Restaurants
- Social Clubs
Small Shopfronts
- Local newsagent
- Post Office
- Convenience Stores
- Takeaway stores
Single Garage Doors
- With low headroom (however we recommend a specifically purpose built garage door rather than a generic security shutter)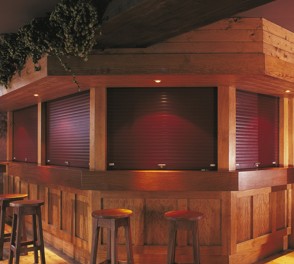 How To Measure
When measuring for a SeceuroShield 3800, it is important to take into consideration various things to make sure the shutter will fit the opening. It is very important to take into account the following:
- Application/Level of Security Required
- Location and Access (is this the only point of escape? fire exit?)
- Number of People Who Will Be Operating This Shutter
- Planning Restrictions/Requirements/Permission
- Budget
- Aesthetics
We are always readily available to offer advice on the most suitable product for your requirements. Do not hesitate to call us on 0800 328 6250 or email us.
Below are a few tips to analyse when measuring your shutter:
- Will the shutter catch on anything that protrudes past the brick line (e.g. handles? fixments?)
- If the window/door opens outwards, will it still open after the shutter is installed?
- Do not forget: The bottom slat will hang down at least 50mm below the box.
- Has the shutter got a cill to close onto or will cill angle be required?
- Are the walls level both inside and outside?
- Always measure the top, middle and bottom within the window reveal. This is to gain a truely accurate measurement.
- Ensure that there is sufficient room for the shutter box and guide rails.
- Decide which would be the best side for the operator to be on. If electrically operated, we recommend it is situated near a suitable power supply.
- Make sure there is nothing which may prevent the sweep of a rod crank or geared belt during operator.
- Note the thickness of the walls; walls over 300mm thick will require an extension bar for crank operated shutters or manual override handles.
- If the shutter is for a doorway, is the floor level?
Technical Specification
SLATS
| | |
| --- | --- |
| Description: | Seceuroshield 3800 is a double skin extruded aluminium non-vented slat. |
| Common use: | High security domestic, commercial and office applications. |
| Dimensions: | Nominally 38mm high x 9mm thick |
| Weight: | 8kg per square metre. |
| Stock colours: | Top slat; White, brown or cream. Bottom slat - white, dark brown |
SHUTTERBOX
Construction:
Roll formed aluminium in two sections; top and bottom boxes.
Bottom box removable for installation and maintenance and
chamfered at 45
Box ends:
The shutterbox is assembled on die cast aluminium endplates.
Box sizes:
Clear opening height (to underside of box):1535mm, box size 165mm; 1820mm, box size 180mm; 2595mm, box size 205mm
Stock colours:
White, dark brown.
The 3800 shutters can be powder coated to alternative standard RAL or BS colours at extra cost and, should this be required, we would be pleased to prepare a quotation. For higher levels of security the H40/S guide rail offers an increased specification to the standard guide rail and incorporates wind locks. These guide rails are available at extra cost to the standard guide rails.
GUIDE RAILS - REF: H30

| | |
| --- | --- |
| Construction: | Extruded aluminium with an integral box section for reinforcement and to facilitate secure fixing. |
| Dimensions: | 60mm wide x 24mm deep. |
| Stock Colours: | White, dark brown |
INSTALLATION

| | |
| --- | --- |
| Guide Rails: | 3 fixings for guide rails up to 1000mm in length, 5 fixings for guide rails up to 2000mm in length etc |
| Shutterbox: | The shutterbox is fixed at each end and 1000mm centres if over 2000mm |
| Finishing : | External shutters require a silicone seal between the shutter and the wall along the top of the box and down the side of the guide rails |
SECURITY FEATURES

Standard Samson shutters lock automatically at the top when fully lowered. The bottom section of theshutterbox is riveted after installation. The fixing screwheads are rendered unusable and are concealedbehind cover caps. Optional 30 x 20 angle can be fixed on to the cill.