Security Shutters Direct from Samson Doors in Bedfordshire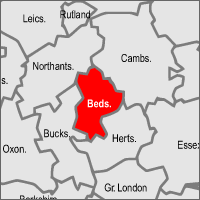 Samson Doors and Shutters are one of Bedfordshires premier suppliers of Roller Shutters, Retractable Grilles, Security Steel Doors and associated physical security products.
If you are located in the Bedfordshire or surrounding area and require a professional Security Shutter and Security Grille supplier and installer with professional surveying service and the lowest prices on the highest quality products, we are here waiting to discuss your requirements. Call us on (01933) 274276

Security for your Property at Home or Workplace
We have many satisfied customers in all parts of the region and our engineers cover the whole of Bedfordshire and surrounding areas. Our long experience in the field of physical security and our excellent knowledge of customer needs, enables us to provide an unrivalled service to clients. The towns we cover locally for surveying and installation include Luton, Kempston, Sandy, Bromham, Milton Ernest, Brickhill, Pavenham, Cranfield, Olney, Newprot Pagnell and many others

Why Choose Samson Security Doors?
We have supplied security shutters and security grilles to the trade and consumer market since 1994. We operate alongside our sister company The Garage Door Centre who have traded since 1986 and have enormous experience in shutters and doors of all types. Our combined experience and knowledge is a real advantage for our customers.
Samson Doors manufacture, distribute and install a full range of own branded roller shutters and industrial doors as well as being preferred distributors for SWS, Hormann, Novoferm and many other leading manufacturers. We construct each security shutter door and grille to the highest and most exacting standards, purpose made to your specification and environment. You benefit directly from our years of experience in all types of security shutters and steel doors.

Excellent Direct Prices

Find out more about our Roller Shutter based products:

• Security Shutters
• Roller Shutters
• Steel Security Doorsets
• Retractable Security Gates

If you have a requirement for either security shutters, fire rated roller shutters, shop front roller shutters, security steel doors, retractable gates, electrical roller shutters, insulated roller shutters, industrial roller shutters, window roller shutters please call or email us to discuss your requirements.

We offer a quick turnaround service and in emergency situations we guarantee our best efforts to offer a same-day replacement service. For supply only requirements we offer next day overnight delivery and our products are competitively priced with full back up service.
We can arrange delivery anywhere in the world.

In addition to roller shutters we supply and install many other security products such as electric gates, parking barriers, anti ram posts, collapsible gates and sliding grilles.

We fully cover for repairs, servicing and maintenance the Bedfordshire area including Luton, Dunstable, St. Neots, St, Ives, Milton Keynes, Woburn Sands, Leighton Buzzard and Olney .