Steel Door Sets Security Doors
Predominately used in commercial and industrial premises (although also eminently suitable for certain domestic applications) the steel door set provides increased security, fire proofing and convenience. Steel door sets come in a wide range of styles and designs, with hugely varying options.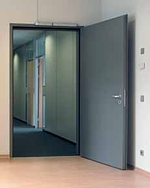 Internal or external
Internal doors are normally used where a higher degree of security is required – for example stock rooms or computer rooms. External doors are fitted predominately for security and fire purposes.

Single skinned steel door sets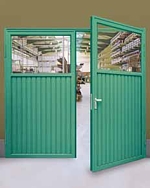 As with anything you buy it is important to remember you normally get what you pay for! If you select the lowest price doors you must expect to buy a single skinned door with standard butt hinges and budget dead locks. The door leafs will be flimsy in comparison to a double skinned steel door and fireproofing and insulation will be non-existent. The finish is not likely to be particularly durable and longevity of useful life expectancy will be limited.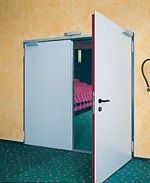 Double skinned steel door sets
Structure
Generally the configuration of a medium security insulated door blade would be between 45 and 48mm and constructed of a skin (steel sheet) between .9mm to 1.5mm thick with the core material varying from a mineral wool to a resin impregnated honey comb. The skins will either be galvanised and primed finish with a powder coat option (strongly recommended for external use) or corrosion resistance zintec, primed as standard, again with a powder coat option.


Hinges and Locking
It is of little point having a highly specified locking system if the hinges are not of an equal level of specification. It is imperative that high security hinges are always be used on a double skinned steel door set. A modified stainless steel dog bolt hinge would be considered to be the minimum needed for resisting attack. The dog bolt is actually a stainless still bolt that is attached to one side of the open hinge and slots into a hole on the other side of the hinge thus holding the door and frame together. In other words, if the hinge pin is 'knocked out' whilst the door is in the closed position it prevents the door being swung open using the lock as the hinged side.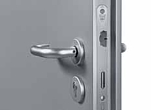 There are essentially 2 types of locking systems. Sash locking – which is a latch and lever handle set - is ideal for heavy traffic usage in and out where a handle is necessary. In this case the key actually locks the handle set. The handle has no vulnerable external points thus rendering it virtually impossible to remove from the outside. The other lock type is a deadlock on which the key locks the bolt. This locking system is more suited to situations where the opening does not have frequent through traffic – eg a store room. For both of these types of locks, all keys will always be unique but can be cut from a master. However higher security cylinders can be specified whereby the key cannot be cut from a master but has to be ordered from the cylinder suppliers.
On as double leaf door set the active leaf (the leaf that is used most frequently) would have the same locking configurations and options as a single leaf. The non-active leaf would have flush bolts top and bottom, surface mounted tower bolts as standard with a keep for the lock as you would find in the single doorframe.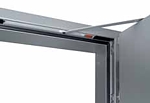 Frames
Steel door sets are always supplied with a frame specific to the door. The ideal frame will have the fitting plates that are welded onto the main frame work thus providing additional strength around the fixing points. This reduces the possibility of the frame being jemmied away from the fixings.
Thresholds
Thresholds are normally supplied with the door sets. However if a threshold is likely to become a trip factor (for example where sack barrows or hand pushed trolleys are used) do ask for them to be omitted. In these cases you would probably require a draught strip attaching to the bottom of the door to prevent rain and wind ingress unless the door is totally internal.
Sizes
The average standard maximum width of a single leaf could be anything up to 1290 wide and 2200 high, with double leafs being around 2600 wide although some companies will manufacture to special orders.
Panic escape (fire escape)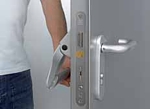 Not to be confused with fire ratings of the door structure, the panic escape element is purely door furniture - a bar that releases the locking mechanisms without the need for unlocking with a key. This furniture would only be fitted the internal face of the doors. An external locking handle set is available to enable access from outside should the door be used as the final entrance and exit – ie the front doors are locked from the inside and the initial and final pedestrian entrance and exit is a rear door.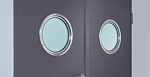 Vision panels
Predominately fitted to enhance natural light, vision panels also give the ability to view outside activity, often useful when in vulnerable situations – high crime areas. The vision panels should be fitted with safety/security glass as required.

Louvred doors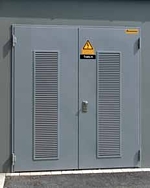 Designed to provide ventilation the louvre door will not provide security to quite the same level as a solid double skinned door. The leaf is constructed from aluminium extrusions with minimum thickness of 1.6mm. A bird screen mesh fitted over the louvre would be recommended if there's a probability of birds flying between the louvres. Single leaf or double leaf sets are both available and the frame would be the same as solid door sets. The widths and heights available on louvre door sets are slightly larger than standard sets.