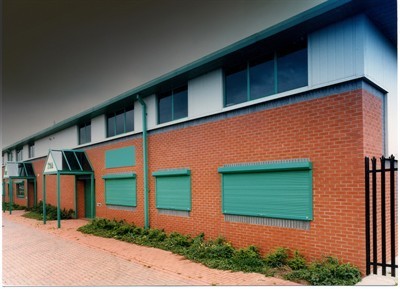 SeceuroShield 3801
The SeceuroShield 3801 has been successfully tested and certificated by the Loss Prevention Certification Board (LPCB) as a top of the range security shutter. It is both Insurance and Police Approved which commends its high security capabilities.
The SeceuroShield 3801 is available as a fully solid curtain however it can be integrated with punched or perforated slat sections with additional options to add glazing. This can be effective if a fresh flow of air or a natural source of light is required.
The SeceuroShield 3801 uses the H40/S high security safety guides which are reinfoced with strong steel sections.
SeceuroShield 3801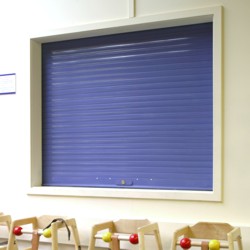 Recommended Use
At Samson, we value your custom therefore we aim to help you make the right choice. That is why we offer our personal recommendations for the application of each product. The SeceuroShield 3801 is commonly used on the following applications requiring an above average level of security:
Domestic
- Vulnerable households
Retail
- Shopping Centres
- Boutiques
- Kiosks
Commercial
- Office Blocks
- Workshops
How To Measure
When measuring for a SeceuroShield 3800, it is important to take into consideration various things to make sure the shutter will fit the opening. It is very important to take into account the following:

- Application/Level of Security Required
- Location and Access (is this the only point of escape? fire exit?)
- Number of People Who Will Be Operating This Shutter
- Planning Restrictions/Requirements/Permission
- Budget
- Aesthetics
We are always readily available to offer advice on the most suitable product for your requirements. Do not hesitate to call us on 0800 328 6250 or email us.

Below are a few tips to analyse when measuring your shutter:
- Will the shutter catch on anything that protrudes past the brick line (e.g. handles? fixments?)
- If the window/door opens outwards, will it still open after the shutter is installed?
- Do not forget: The bottom slat will hang down at least 50mm below the box.
- Has the shutter got a cill to close onto or will cill angle be required?
- Are the walls level both inside and outside?
- Always measure the top, middle and bottom within the window reveal. This is to gain a truely accurate measurement.
- Ensure that there is sufficient room for the shutter box and guide rails.
- Decide which would be the best side for the operator to be on. If electrically operated, we recommend it is situated near a suitable power supply.
- Make sure there is nothing which may prevent the sweep of a rod crank or geared belt during operator.
- Note the thickness of the walls; walls over 300mm thick will require an extension bar for crank operated shutters or manual override handles.
- If the shutter is for a doorway, is the floor level?
Technical Specifications
SLATS
| | |
| --- | --- |
| Description: | Seceuroshield 3801 is a double skin extruded aluminium non-vented slat fitted with anti-vandal wind endlocks. |
| Common Use: | Domestic, retail and commercial properties requiring an above average level of security. |
| Dimensions: | Nominally 38mm high x 9mm thick. |
| Weight: | 8kg per square metre. |
| Stock Colours: | White, brown or cream. Bottom slat - white, dark brown. |
SHUTTERBOX
Construction:
Roll formed aluminium in two sections; top and bottom boxes. Bottom box removable for installation and maintenance and chamfered at 45°.
Box Ends:
The shutter box is assembled on steel endplates.
Box Sizes:
Clear opening height (to underside of box):
1535mm, box size 165mm
1820mm, box size 180mm
2595mm, box size 205mm
3750mm, box size 250mm
INSTALLATION
| | |
| --- | --- |
| Guide Rails: | Each guide rail must have a minimum of 5 fixings per guide rail (irrespective : of size). The minimum required fasteners are No.12 x 2 ½ " screws and plugs for masonry and M8 fasteners with 10mm engagement for steel. |
| Shutterbox: | The shutterbox is fixed at each end and 1000mm centres if over 2000mm wide. A minimum of 2 fixings per end plate are required. |
| Finishing: | External shutters require a silicone seal between the shutter and the wall along the top of the box and down the side of the guide rails. |
Min Width: 900mm
Max Width x Height: 3000mm x 4000mm
Max Area: 12sqm
Material: Extruded Aluminium / 8kg/m²

Profile of 38mm slat