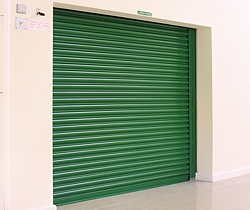 SeceuroShield 7500
Introducing the SeceuroShield 7500, a continental style steel security roller shutter. With its scrolled slat profile becoming a familiar security design, this product is very popular and is highly suitable for medium security office, commercial and industrial applications.
The SeceuroShield 7500 is available with a single phase barrel motor operator and externally mounted 3 phase electric operator on larger sizes.
It uses a strong single skin scrolled steel slat combined with a galvanised "L" or "T" bottom slat. It also uses the highly durable UPH250 guide rails constructed from extruded aluminium with box section for fixing/reinforcement for high density 4mm pile brush seals as standard.
Recommended Use
The SeceuroShield 7500 is a very strong single skinned steel security shutter and is suitable for most applications. At Samson, we recommend this security shutter for the following applications:
Medium Security Commercial Premises
- Offices
- Sports Centres
- Community Centres
- Social Clubs

High Security Residential Premises
- Rural Homes
- Suburban Homes
- Homes at risk of burglary.
Medium Security Industrial Applications
- Factories
- Medical Premises
How To Measure
When measuring for a SeceuroShield 3800, it is important to take into consideration various things to make sure the shutter will fit the opening. It is very important to take into account the following:

- Application/Level of Security Required
- Location and Access (is this the only point of escape? fire exit?)
- Number of People Who Will Be Operating This Shutter
- Planning Restrictions/Requirements/Permission
- Budget
- Aesthetics
We are always readily available to offer advice on the most suitable product for your requirements. Do not hesitate to call us on 0800 328 6250 or email us.

Below are a few tips to analyse when measuring your shutter:
- Will the shutter catch on anything that protrudes past the brick line (e.g. handles? fixments?)
- If the window/door opens outwards, will it still open after the shutter is installed?
- Do not forget: The bottom slat will hang down at least 50mm below the box.
- Has the shutter got a cill to close onto or will cill angle be required?
- Are the walls level both inside and outside?
- Always measure the top, middle and bottom within the window reveal. This is to gain a truely accurate measurement.
- Ensure that there is sufficient room for the shutter box and guide rails.
- Decide which would be the best side for the operator to be on. If electrically operated, we recommend it is situated near a suitable power supply.
- Make sure there is nothing which may prevent the sweep of a rod crank or geared belt during operator.
- Note the thickness of the walls; walls over 300mm thick will require an extension bar for crank operated shutters or manual override handles.
- If the shutter is for a doorway, is the floor level?
Technical Specification
- Strong single skin galvanised steel profile as standard
- Medium security office / commercial / industrial applications
- Spans widths up to 6000mm and heights up to 3400mm
- Single phase electric operation option - manual as standard up to 8 sq. metres
- Can be powder coated any RAL / BS colour
- Will reverse coil if required
- Manufactured with aluminium head box and guides for higher grade applications and easier installation, also available with traditional galvanised steel channels and head box.


Min Width:
Max Width x Height:
Max Area:
Material:
1000mm
6000mm x 3400mm
15sqm
22swg Steel /10kg/m²